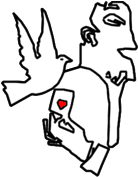 Magiclandia activities are quite similar to those other organizations of worldwide magicians. In Magiclandia pages, you can find explanations of magic turns, videos and texts. You can publish your ideas and magical thoughts.
Why Magiclandia ? In the world, there are several magical Clubs. But, they do not cover whole the country. The beginners sometimes would like to discover more. But, they cannot regularly take part in the activities of the club for geographic reasons. With Internet and Magiclandia, the problem has been solved. Put on your computer and at any part of the day, you can be connected to Magiclandia Virtual Club !
Why is Magiclandia so special ? Because Magiclandia is above all a magical school. You can begin to do your first steps in the magical art, study the lessons and learn the basic techniques of conjuring. Through the texts, the pictures, the videos, you can become a wizard at home. At the same time, there will be professionals, who will be able to support and advise you on eventual doubts. The lessons consist in a

to the end of which you will

get an important technical and cultural knowledge.
The Course of Magic is also available on CD
Magiclandia does not explain only the secrets of the magical tricks and the methods used. they are acknowledged by the professionals. In fact, several lessons are based on the presentation in different work situations.
You will be able to know interesting books, where you can find them and you can find the professional equipment and how you can use it.

We advise you organizations and clubs in which you can find other magicians and improve your experience in this subject.
At the end of the course, you can take a diploma online and become a « virtual member of Magiclandia ». You will not be a simple beginner anymore, but a professional Magician.